In order to improve security, we will renew the login screen on the mobile apps together with the new version scheduled to be released in late July 2023.
When you login on the new login screen, you may be required to enter your email address and password, so please confirm your login email address and password in advance.
Please see below for details on the renewal.


Changes
A new login screen will appear when you log out after updating to the latest version of the app, or when you install the app on a new device.


If you are already logged in to the app, you will not be asked to login, as your login status will remain upon app update.



With the new login screen, reCAPTCHA will be displayed when logging in. And also, the email authentication that used to be required at login when two-factor authentication has not been set will be eliminated.


If you have set up SSO, simply enter your e-mail address on the login screen, and then the IdP login screen will automatically appear, allowing you to login. Customers who have set up a dedicated login URL do not need to enter the URL as well.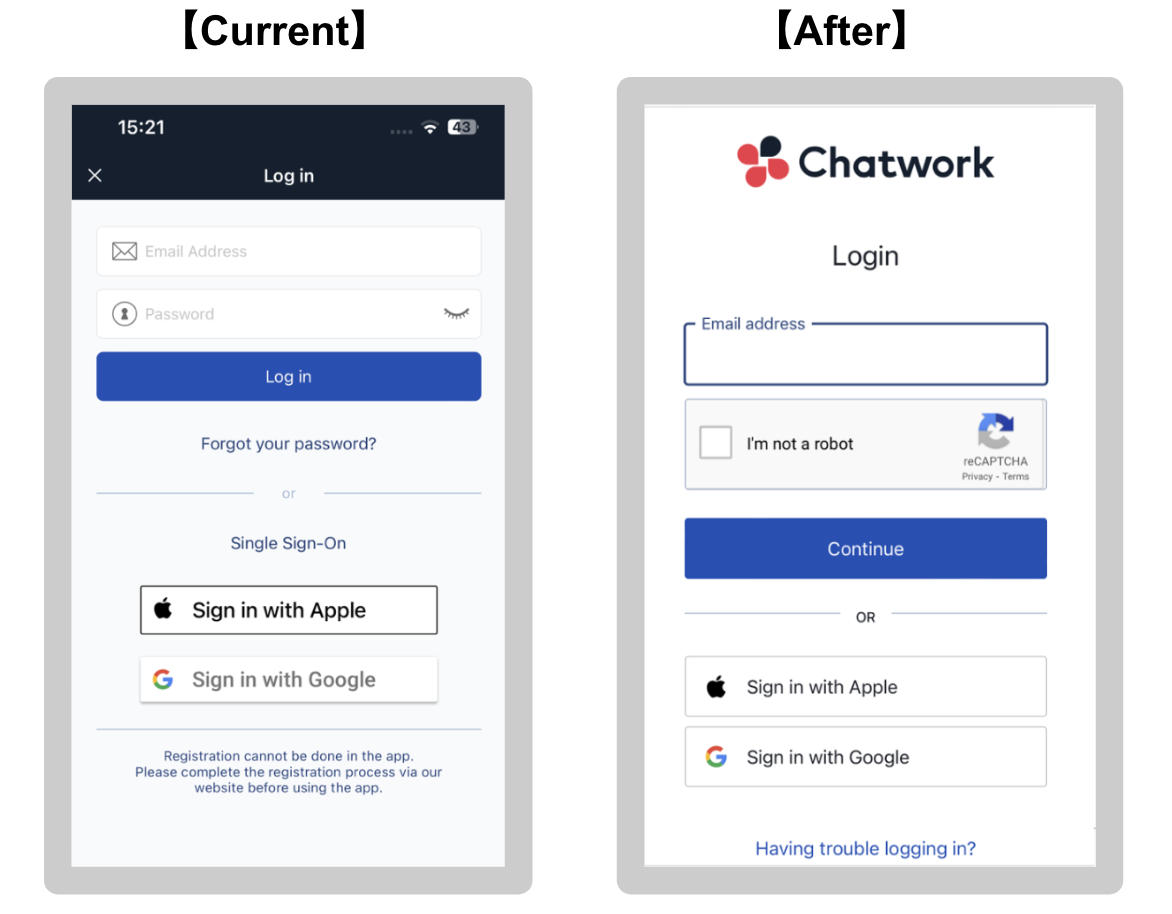 Account unlocking method will be changed


When your account is locked, you will need to verify your account with the unlock email sent to your login email address. Please make sure that your registered email address can receive emails.



Conditions for automatic logout will be unified


After logging in on the new login screen, you will be automatically logged out if you do not use the service for 30 days regardless of the login method.



Some special forms of email addresses will no longer be available


If your email address matches the following patterns, you need to change your login email address.


Patterns of unavailable email addresses:


abc..def@chatwork.com - contains consecutive dots
.abcdef@chatwork.com - the first character is dot
abcdef.@chatwork.com - dot just before @



Since you can no longer login on the latest login page on a PC with your email address, please access the old login page from the help page below and login.

Then follow the instructions in the link below to change your email address.