We will be relaunching the login page on March 15, 2023
. If you cannot resolve the issue by referring to the help page below,
please try logging in from the old login page.
*The old login page will be temporarily available for use.
Please solve the issue as soon as possible so that you can use the new login page.
*If you have difficulty resolving the issue, please contact us using the "Contact Us" form.

For users unable to login to Chatwork please try the following steps:
Forget login email address or password
Please refer to the following help pages.
Email address:
Please check the help page below.
Forgot login email address
Password:
Please check the help page below.
Forgot login password
Entered email address and clicked the "continue" button, but nothing happened
Please check below:
The reCAPTCHA may fail to display due to network restrictions. Please have your network administrator check the settings and add the following to the permitted domains:


www.google.com
www.gstatic.com
fonts.gstatic.com
www.recaptcha.net

Please make sure that your browser is the latest version.
If your network is restricted or using an older version of the browser, as shown in the left image below, reCAPTCHA will not be displayed and you will not be able to login. If reCAPTCHA is allowed, and the browser is the latest version, reCAPTCHA will be displayed as shown in the right image below.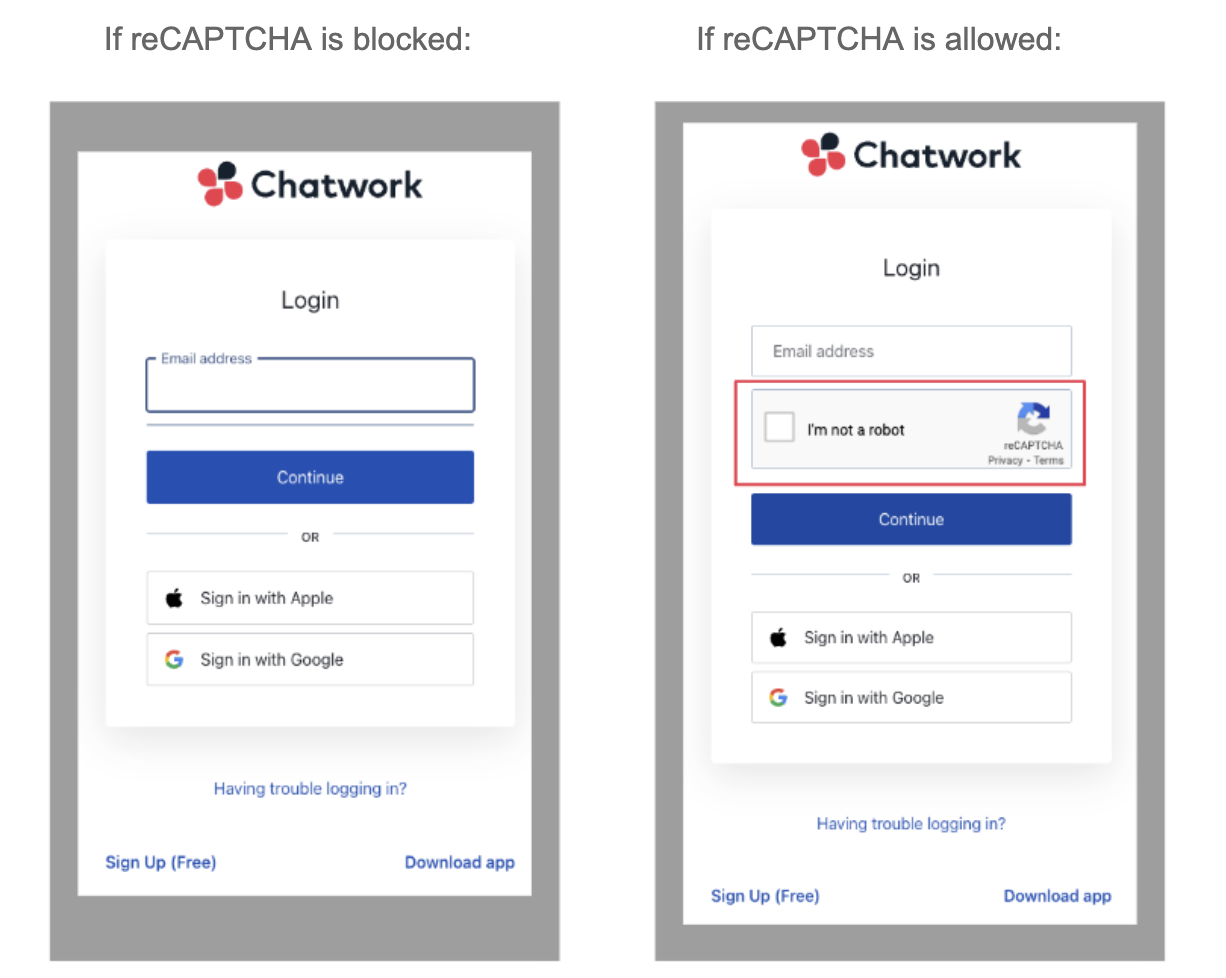 I usually use the dedicated login URL, so I cannot login.
Please fill the "organizational keyword" section of the URL below set by your organization administrator to access your dedicated login page.
https://www.chatwork.com/s/[organizational keyword]
Example: If the organizational keyword is "aaa"
URL: https://www.chatwork.com/s/aaa
Not sure about the organizational keyword
Please ask your organizational administrator about it.
Entered email address, then error message "Email is not valid" is displayed
Please make sure you entered the correct email address. If the error message is displayed even if you entered the correct email address, there might be an issue with your email address. The following special forms of email addresses will no longer be available.


Patterns of unavailable email addresses:
abc..def@chatwork.com - contains consecutive dots
.abcdef@chatwork.com - first character is dot
abcdef.@chatwork.com - dot just before @


In this case, please log in from the old login page, change your email address, and then try logging in again from the new login page.
Set/Change your email address
If you do not remember your login email address, please check the following help page.
Forgot login email address
If the above methods don't work please contact us via form below
https://support-en.chatwork.com/hc/en-us/articles/4409834074265